CHOOSE FROM DOMESTIC AND EXOTIC WOOD
Find everything you're looking for — from ash to zebrawood and everything between, we'll help you find just the right wood for your project.
EXPLORE OUR
MASSIVE INVENTORY
Our new location is bigger and better than ever — whether you're a pro, a hobbyist or a DIY'er, you'll love exploring our extensive assortment of wood.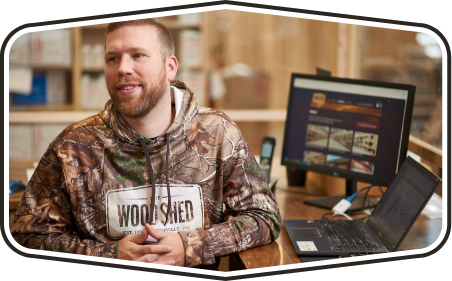 CONNECT WITH
KNOWLEDGEABLE STAFF
You won't find any "associates" here — but you WILL find professional and knowledgeable staff, happy to help you get what you came for.
CHOOSE THE PERFECT WOOD FOR YOUR PROJECT
Please use the arrows to navigate through our Product Categories
We have many different species of domestic woods. Click on each product to see..
HEAR FROM OTHER WOOD ENTHUSIASTS.
"Can't recommend The Wood Shed highly enough. I've been woodworking for several years and always found lumber yards intimidating. The staff here are super friendly and helpful, there is a huge amount of stock of domestic and exotic wood, and the prices are extremely reasonable. They have everything you could need for basically any project. I'm excited to go back."
"I have used The Wood Shed extensively over the past 10 years and counting and they have always been a pleasure to work with. Thanks for the exemplary customer service, and fantastic array of products and services!"
"If you do anything with wood, you HAVE to visit these guys! Great selection, price, and excellent staff! You will not be disappointed! Being a woman fairly new to the woodworking scene, this is a place that feels like home. Every customer is treated the same. Best customer service in the industry!!"
IT'S ALL ABOUT THE WOOD…
Owner James DeBoer's personal interest in woodworking led him to harvest his own wooded farm lot, which he stored in an old poultry barn on his property in Smithville, Ontario.
Over the years as his inventory grew, and driven by his keen eye for specialty wood and ability to spot a deal and a sense of what people want, the old barn officially became The Wood Shed in 1990
For many, a trip to The Wood Shed is an adventure. The vast, ever-changing inventory attracts customers both near and far — some even traveling from several hours away! People come for the inventory, but they stay because of the easy-going, relaxed, "let's talk wood" atmosphere.
Come down to The Wood Shed — we'll meet you out back.
We're happy to chat about your project online or over the phone. But, the best way to experience The Wood Shed is to come see it for yourself!
FIND THE PERFECT WOOD FOR YOUR NEXT PROJECT
COME TO THE SHED
The wood you choose for your project has to have the right look and feel – and the only way to know you're getting exactly what you want is to see it for yourself.
FIND WHAT YOU'RE LOOKING FOR
Take your time and browse through our extensive inventory. Our professional and knowledgeable staff are happy to help you find exactly what you're looking for.
TAKE IT HOME AND CREATE!
When you've found what you're looking for, take it with you or make arrangements to have it delivered – and don't forget to show us your finished project!