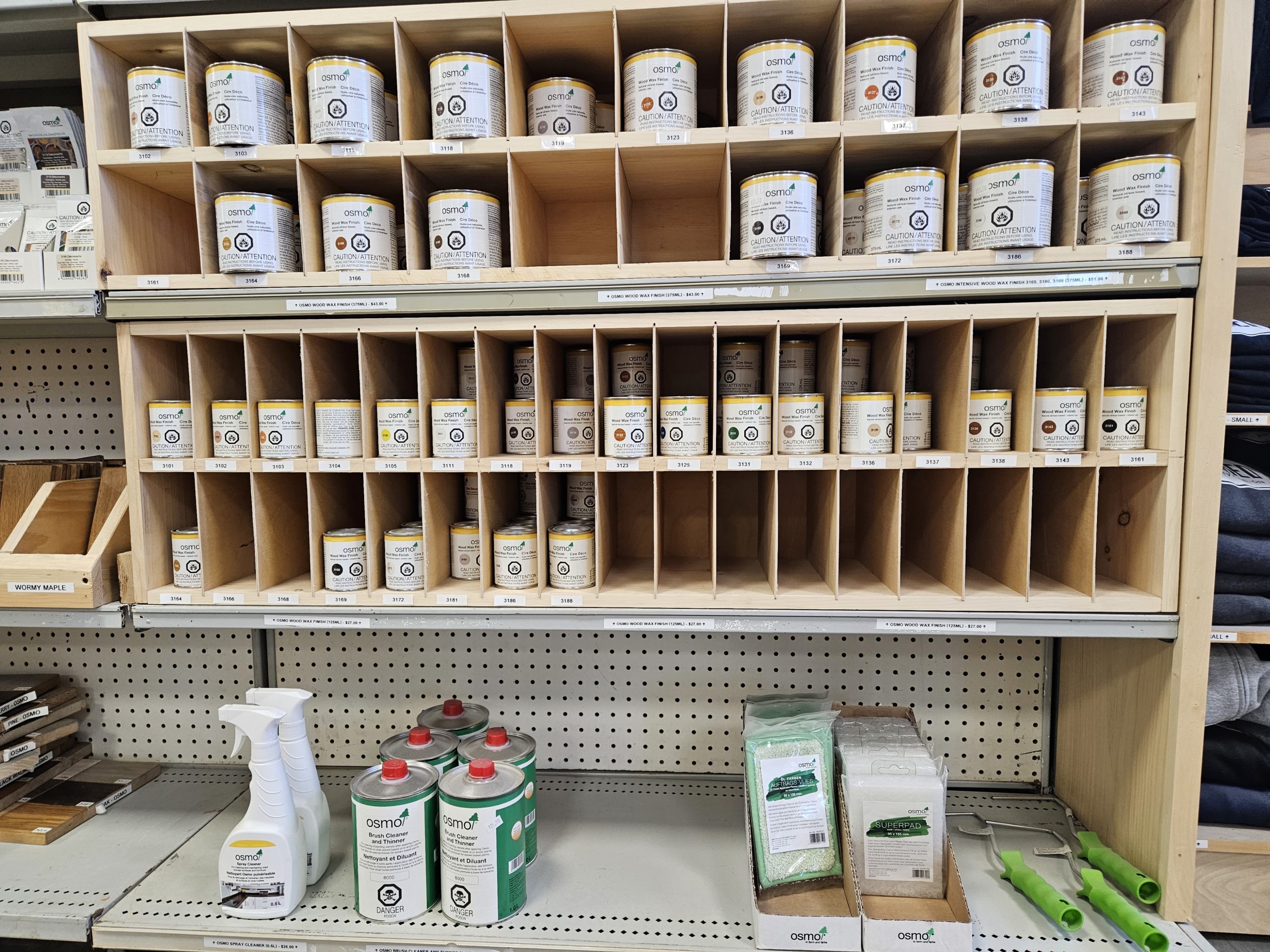 Osmo Interior Finish
Osmo offers a natural and environmentally friendly alternative to wood finishing. The products are based on rapidly renewable, natural vegetable oils that penetrate deeply into the wood, keeping it elastic and healthy, whilst preventing it from drying and becoming brittle. The wood is allowed to breathe which means it is naturally protected, moisture can evaporate whilst the surface is very water resistant, water tightly beads on the surface which can be simply wiped off.
Osmo Wood Wax Finish (375mL) colours: Lightly Steamed Beech, Light Oak, White, Granite Grey, Sillk Grey, Pine, Birch, Cherry, Mahogany, Cognac, Ebony, Oak, Walnut, Antique Oak
Osmo Wood Wax Finish (750mL) colours: Granite Grey, Ebony, Oak
Osmo Wood Wax Intensive Finish (350mL) colours: Black, White-Matte, Snow
Please contact for stock and availability.
For more information on Osmo Interior products follow this link: https://osmo.ca/interior-coatings/
| | |
| --- | --- |
| 3031 Osmo Poly-X Oil - Matte Finish (125 mL) | $26.00 |
| 3031 Osmo Poly-X Oil - Matte Finish (750 mL) | $69.00 |
| 3031 Osmo Poly-X Oil - Matte Finish (2.5 L) | $185.00 |
| 3043 Osmo Poly-X Oil - Satin Finish (125 mL) | $26.00 |
| 3043 Osmo Poly-X Oil - Satin Finish (750 mL) | $69.00 |
| 3043 Osmo Poly-X Oil - Satin Finish (2.5 L) | $185.00 |
| 3011 Osmo Poly-X Oil - Gloss Finish (125 mL) | $26.00 |
| 3011 Osmo Poly-X Oil - Gloss Finish (750 mL) | $69.00 |
| 3056 Osmo Top Oil - Clear Finish (500 mL) | $52.00 |
| 3025 Osmo Top Oil - Natural Finish (500 mL) | $52.00 |
| 3026 Osmo Top Oil - Acacia Finish (500 mL) | $52.00 |
| 1101 Osmo Extra Thin Wood Wax Finish Clear (750 mL) | $49.00 |
| Osmo Wood Wax Finish - (375 mL) - 14 colours available | $39.00 |
| Osmo Wood Wax Finish - (750mL) - 3 colours available | $68.00 |
| Osmo Wood Wax Intensive Finish - (375 mL) - 3 colours available | $45.00 |
| Osmo White Super Pad - 155mm x 95mm | $3.99 |
| Osmo Oil Finish Applicator Fleece | $10.25 |
| Osmo Hand Pad Holder - 135mm x 85mm | $14.00 |
| 8000 Osmo Brush Cleaner and Thinner (1L) | $24.00 |
| 8026 Osmo Spray Cleaner (500 mL) | $26.00 |
| 3029 Osmo Liquid Wax Cleaner Spray (400 mL) | $42.00 |